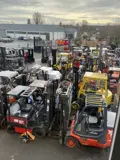 Forklift Hire
Renting forklifts can be a cost-effective solution for organizations that have temporary or fluctuating material handling needs or those that want to avoid the upfront costs and responsibilities associated with ownership. Here are some key points to consider when it comes to forklift hire:
Benefits of Forklift Hire:
Cost Savings: Renting forklifts can be more cost-effective than purchasing, especially if the equipment is needed for a specific project or short-term job.

Flexibility: Forklift rental provides flexibility to choose the right type and capacity of forklifts based on the specific requirements of the task at hand.

No Maintenance Costs: Rental agreements often include maintenance and repair services, relieving the renter of maintenance responsibilities and costs.

Equipment Variety: Rental companies offer a range of forklift types, sizes, and attachments to suit different material handling tasks.

Quick Availability: Rental equipment can be quickly available, allowing businesses to meet unexpected demands or replace temporarily unavailable equipment.

No Depreciation: Renting eliminates the concerns related to equipment depreciation, as the equipment is returned to the rental company after use.
Considerations for Forklift Hire:
Rental Duration: Determine how long you will need the forklifts to ensure you choose the appropriate rental period

Type and Capacity: Consider the type of forklift (electric, diesel, gas) and the load capacity required for your specific tasks.

Attachments: If your tasks require specialized attachments (such as clamps or forks), make sure the rental company offers the required attachments.

Delivery and Pickup: Coordinate logistics for the delivery and pickup of the forklifts to and from your site.

Operator Training: Ensure that operators who will be using the rented forklifts are properly trained and certified.

Insurance: Clarify whether the rental company's insurance covers any damages or if additional insurance coverage is needed.

Service and Support: Choose a reputable rental company that offers reliable service and support, including maintenance and emergency assistance.

Cost Analysis: Compare the total cost of renting with the cost of purchasing and maintaining forklifts over the same period to determine the most cost-effective option.
Forklift hire provides a flexible and cost-efficient solution for addressing temporary material handling needs without the commitment and expenses associated with ownership. When considering forklift rental, carefully evaluate your operational requirements, the duration of usage, and the rental terms to make an informed decision that aligns with your business goals.